The Amulet
Exploring the Hidden World of Infant Loss
with artist Marie Brett
 We all have amulets, those special objects often hidden away in drawers and cupboards which mark a significant time, occasion or person in our lives. Particular to infant loss, this poetic artwork titled 'Anamnesis' links photographs of family amulets together with bereaved parent's whispered stories describing their amulet's meaning.
'Anamnesis' is a Greek word meaning to recall to memory or memorial sacrifice. The artwork aims to draw the viewer into a special world of quiet reflection, shedding light on an often hidden aspect of Irish life.
The artist Marie Brett collaborated with bereaved parents to produce the artwork, as part of The Amulet Project 2009/13.
"This potent exhibition draws the viewer into a special world of quiet reflection. The artwork is compelling, visually beautiful and inventively takes you to a place of intrigue and surprise. Intimate and universally relatable, you'll feel and think differently about loss after seeing this show."      

Bereaved parent who collaborated with the artist

EXHIBITIONS
GALWAY 
Friday 1 – Friday 29 August, 2014
Galway Arts Centre, Dominick Street, Galway
Discussion event at Árus Na Gael, Dominick Street, Galway  Friday 1 August at 4pm 
Exhibition launch Galway Arts Centre, Dominick Street, Galway  Friday 1 August at 6pm   
LIMERICK
Thursday 25 & Friday 26 September, 2014
University Maternity Hospital Limerick, Ennis Road, Limerick
Panel discussion event at University Maternity Hospital Limerick Thursday 25 September at 6pm
CORK
The Atrium Cork City Hall: Monday 13 October – Friday 28 November, 2014
Panel discussion event at The Atrium Cork City Hall,  Wednesday 15 October at 6pm
Bishopstown Library, Wilton, Cork  Tuesday 14 – Friday 24 October
Cork Public Museum, Fitzgerald Park, Cork Tuesday 4 November 2014 – Saturday 3 January 2015
DUBLIN
The LAB Gallery, Foley Street, Dublin 1:  Thursday 15 January – Saturday 28 March, 2015
Exhibition launch The LAB Gallery, Thursday 15 January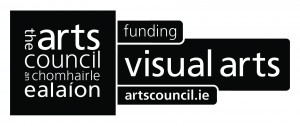 The Amulet exhibition tour is funded through the Arts Council Touring and Dissemination of Work Award 2014