As part of the Amulet project research, the artist Marie Brett made several audio and moving image recordings. This short video documents three such recordings.
Foetal heartbeat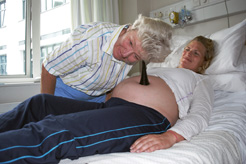 At Cork University Maternity Hospital, the Assistant Director of Midwifery Audrey Moran assisted the artist in making foetal heartbeat audio recordings of patient Catherine McCarthy's triplets. Catherine's Mother was also present and listened to the three individual heartbeats using a wooden pinard.
Layettes as first and last robe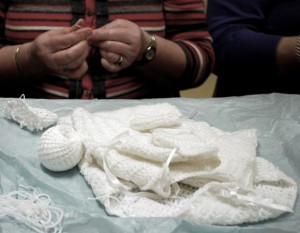 During the Amulet research project, a meeting between the artist, the voluntary group Ballyphehane/Togher Art+Craft Initiative and members of CUMH neonatal staff, plus the bereavement and loss team, gave opportunity for the staff to share a need … the need for items of clothing for the very small babies that pass away. [No such items of clothing are available, nothing is made or sold small enough].
This delicate information was shared in response to the concept of the Amulet plus the contextual legacy of BTACI members donating items of knitted clothing to the hospital (booties, bonnets, blankets).
CUMH staff had identified a link between the notion of an Amulet and that of a baby's first and last gown, and it was during this meeting that the idea of creating layettes for the very little deceased babies originated.   The artist worked with BTACI to record their making of these baby layettes.
The tiny white robes are hand crocheted and donated in sets to Cork University Maternity Hospital's bereavement and loss team. The sets are available to bereaved parents as an optional item of special dress for their deceased infant(s) enabling the family choice in cherishing memories of their baby's preciousness.
The making of layettes by BTACI members is on-going, and has spread to encompass many other hospitals nationally.  
'You know when you are making the layettes, you can feel an atmosphere within the group and room, and something might be said or shared, it might be a personal encounter or experience, and the space becomes safe to experience a deeper than usual unity within the group. There is an intensity but with a light and delicate atmosphere.'  Ballyphehane/Togher Art+Craft Initiative, Nancy Falvey + Bernice Jones in conversation with artist Marie Brett
Mother child conversation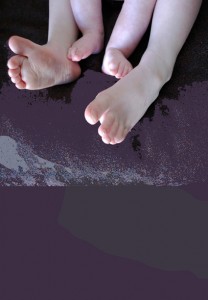 Mother Edelle Nolan worked with the artist to record a reciprocal conversation between herself and her young baby daughter.